Information for our family and friends....
June 20, 2015: So sad to report the death of our beloved Lee Finks after several years of declining health. Obituary.
From now on, all updates and photos will be on my facebook page.
2011: Photos of Imani cattle.
January 2011: Animals in the snow. Cattle, pigs, ducks, chickens.
January 2010: Wilson, Cat, and Charlie join us at Oak Island. Pictures.
December 18, 2009: About a foot of snow. Pictures.
December 2009: Cat is thinking of buying about eight acres in Sandy Mush (NW of Asheville). Pictures.
Pictures of the first coat of plaster on the exterior of Brian's and Farmer's new homes.
Fall 2009: A new calf--it's a girl! Her name is Mireille. Here are photos:
new born
with mom
with mom2
close-up
drinking
We also have two new Berkshire Piglets:
piglets


Spring 2009: We enjoy visits from Maria, George, and Michael. More updates of our life and recent photos can be found at Martha's FaceBook page: facebook.com/heeligan.
Spring 2009: Laura is accepted as a transfer student at UC Santa Barbara.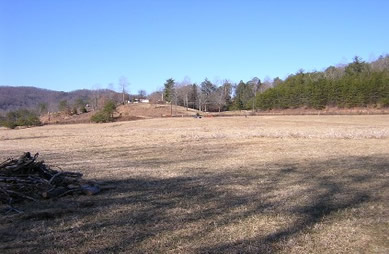 January 2009: Martha takes Lee's advice to invest her IRA in something tangible. The IRA now owns 24 acres of flat, cleared, fenced pasture, eight miles from Earthaven, pictured above. We call it Martha-Lee farm. Here is a video of Martha-Lee Farm.
Fall 2008: Wilson and Charlie go to Africa!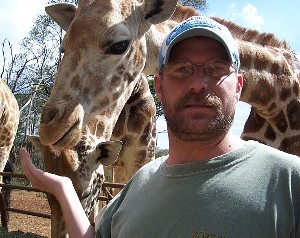 July 2008: We are happily settled at Earthaven and posted some photos.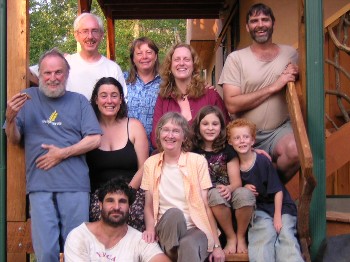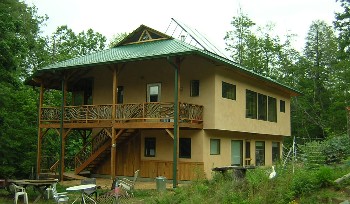 May 2008: Michael graduates from Humboldt State University with a degree in English.
December 2007: Martha retires from the Legislative Reporting Service and we move from Durham to Village Terraces!
April 2007: Construction has started on our duplex at Village Terraces! We will call it Pokeberry Hill. We found a buyer for our Durham house after only two weeks on the market. Closing is set for May 1.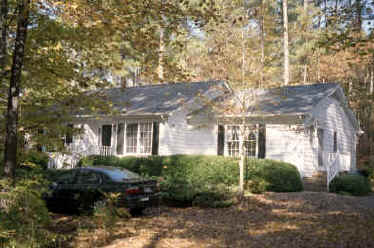 Summer 2006: Charlie changes careers, becoming a long-distance truck driver.
June 2006: Lee and Martha are now full members at Earthaven, living in the Village Terraces neighborhood. Lee works as copyeditor for Communities Magazine and Martha does bookkeeping and web technical work for Earthaven.
April 29, 2006: Joe and Kathy get married!! Martha and Lee are there, along with Michael, Laura, Eric, and Ruth.
Kathy and Joe celebrate with a big party (also a going away party) on May 19.
April 2006: Martha and Lee are now moving toward the end of their six-month provisional membership at Earthaven, an ecovillage near Bat Cave, NC. Martha no longer sells things on eBay or volunteers at the thrift shop, because she and Lee spend roughly every other week at Earthaven.
March 2006: Kathy has a new job in San Francisco! She is now working at Amgen, for her former boss. Joe and Laura will follow in a couple of months. Michael is tranferring from Temple to Humboldt State.
2006: Cat leaves the Chinese Acupuncture and Herbology Clinic and resumes her own business, Community Acupuncture, renamed Asheville Community Acupuncture.
August 2005: Martha and Lee become supporting members of Earthaven, an aspiring ecovillage near Asheville. We want to learn permaculture (sustainable agriculture) to prepare for the effects of peak oil. We are spending a lot of time at Earthaven, renting space from Rod Rylander. Martha gives up her Ebay and Pennies for Change work.
January 5, 2005: Martha retires from 20+ years in the Bill Drafting Division of the North Carolina General Assembly. She starts new job at the UNC Institute of Government, working part-time as editor of the Daily Bulletin.
December 23, 2004: Lee turns 70!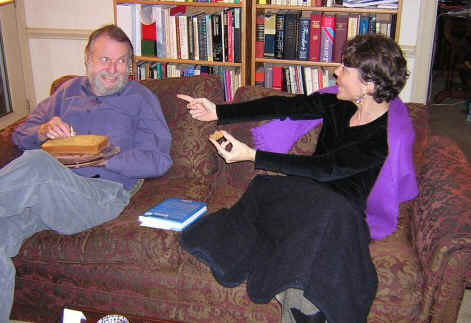 Autumn 2004: Michael enters Temple University in the Honors Program.
June 2004: Mom and Dad's 50th Anniversary! We celebrate at Peaks of Otter.
2004: Martha is now eBaying charity auctions for Pennies for Change.
Autumn 2003: Martha is working part time and volunteering at Pennies for Change, a Durham thrift store that benefits the domestic violence and rape crisis organization, Durham Crisis Response Center.
August 2003: Charlie begins his career as an elementary school teacher, with a fourth grade class at Salem Elementary in Apex.